ENGINEERING / CONSTRUCTION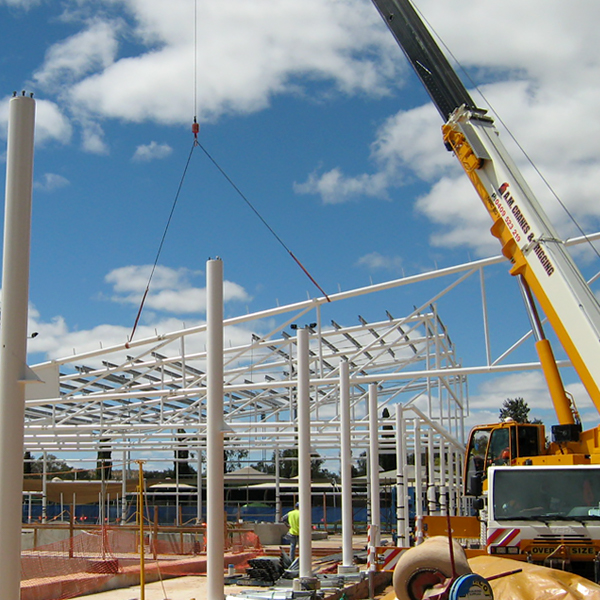 Surface Preparation & Coating
Heavy duty metal needs a heavy-duty surface finish – and the right equipment to match.
The protection of hardwearing metal structural and mechanical components is a fundamental consideration of steel fabrication and construction across heavy engineering, mining, defence, water, transport, energy and renewables.
Oliver Technologies is a proven supply partner to customers working in structural steel, heavy engineering fabrication, pipe welding, heavy plate work or commercial and industrial construction.
Our solutions and technical advice assist our customers to optimize surface treatment and paint application of metal structures and components - mild steel, aluminum, galvanised sheet and components, and casting materials – to achieve increased durability and protection against damage and corrosion, particularly for outdoor use.
Oliver Technologies also provides a complete range of abrasive blast, spray painting and powder coating equipment to ensure a durable finish, as well as facilities design and installation to suit your heavy metal process.
Air Quality & Ventilation Systems
Oliver Technologies has considerable experience delivering ventilation systems to maintain air-quality for aggressive industrial environments such as metal surface preparation, welding, plasma and laser cutting where potentially volatile and dangerous workplace fumes are produced and need to be filtered and/or extracted from the environment.
We understand the importance of selecting the right-size dust collector suited to your application. The right dust collector will provide extended filter cartridge life resulting in less down time, maintenance and filter replacement costs. Every application is different and our experience, means we can offer the right solution for the project.
We also manufacture our own range of purpose built extraction systems, ductwork, hoods, canopies and spray booths. Our engineering, drafting and project management division enables us to manage projects from design stage, using Solidworks 3D and Autocad drafting software, through manufacturing, installation and commissioning of full turnkey dust and fume control solutions.
Spiral pipe applications
Spiral pipe is used in a wide range of civil and structural construction applications by engineers, architects, builders and formworkers – for HVAC systems, dust collection systems, fume extraction systems, rubbish chutes, mining ventilation systems, concrete formwork and pipeline projects, pier liners and culverts. Of itself, spiral pipe has become something of an architectural feature!
At Oliver Technologies, we provide spiral duct/spiral tube, and spiral pipework design, fabrication and installation. We offer a mobile, portable service with our containerized pipe winding manufacturing facility that enables pipe to be wound at the construction site, reducing transport costs and providing just-in-time delivery.
Talk to us today about the best solution for your process.
Projects
Clients
Bradken

Ottoway Fabrication