Projects
Powder Coat &
Pre-treatment Facility
Spray Painting Equipment
Client:
Advanced Alloy Wheel Repairs
Location:
Melbourne, Victoria
Head Contractor:
Oliver Technologies
Download PDF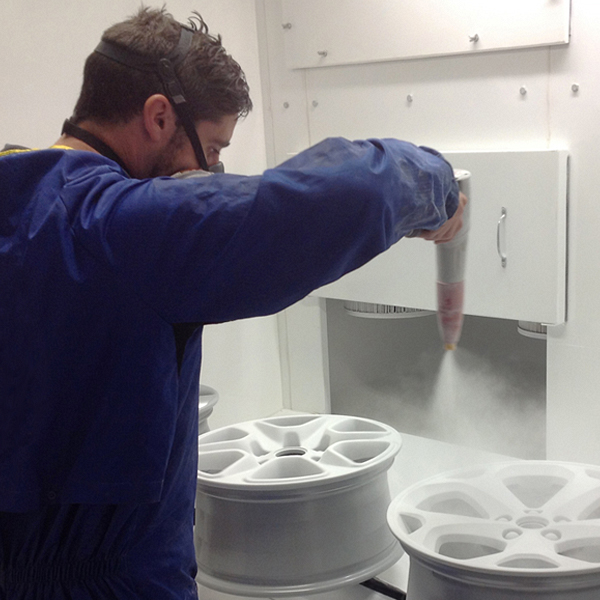 Advanced Alloy Wheel Repairs provides specialised work in repairing and restoring damaged alloy wheels. Oliver Technologies was selected to design and install a conveyerised powder coat and pre-treatment facility within the company's Melbourne plant, to support alloy wheel refurbishment.
We proposed a solution that involved installatio of a chemical stripping facility, powder cure oven, floor conveyor, 2 dry cartridge powder booths and a wet spray touch up booth, and supply of a manual powder coat unit. This process enabled Advanced Alloys to replicate the process used by the original wheel manufactures, ensuring that the finished product matched that of the original wheels.
The project was delivered over 3 week installation period.
Oliver Technologies was selected for its capability not only to manufacture components but also its ability to oversee and manage the complete project from end-to-end.
Technical Solution
Alloy Wheel Stripping Facility
Installation of a 3 tank chemical stripping facility comprising stripping tank, rinse tank and wash down tank manufactured from 3mm thick stainless steel supplied with overhead gantry hoist and product basket.
Powder Cure Oven
Installation of a direct gas fired, forced convection oven, 10 metres long, x 2.9 metres wide x 2.3 metres high single zone, double lane tunnel.

Double case fabrication with 100mm insulation infill

Fitted with a high low burner installed to give safety purge, automatic ignition, automatic temperature control up to 250 deg C and flame failure protection.

The temperature profile in the oven can control to + or – 5 deg C.
Floor Conveyor
Bi-planner enclosed track floor conveyor with rotating product pegs

Product located along track at 610mm centres

Electronic variable speed drive unit with output up to 1.5 mpm line speed.

Three variable speed rotation drives, positioned in the booths to rotate the product in front of the spray guns.
Dry Cartridge Powder Booths (2 off) & Wet Spray Touch Up Booth (1 off)
Powder Booth Size: 2480W x 2300H x 2400D

Preformed zinc anneal plenum panels finished white powder coat

Reverse pulse dust collector with 10 x 350 dia x 660 long polyester cartridges

Wet Spray Booth: 2400W x 2400H x 2400D with Procart media
Powder Spray Equipment
Supply of Sames e-Jet2 manual powder coat unit (2 off)

Supplied with the vibrating table (e-Jet2 VT) - ideal for numerous colour changes