Projects
Blast, Paint &
Powder Coat Facility
Design & Installation
Client:
Industrial & Agricultural Wheel Manufacturer
Location:
Bendigo, Victoria
Head Contractor:
Oliver Technologies
Download PDF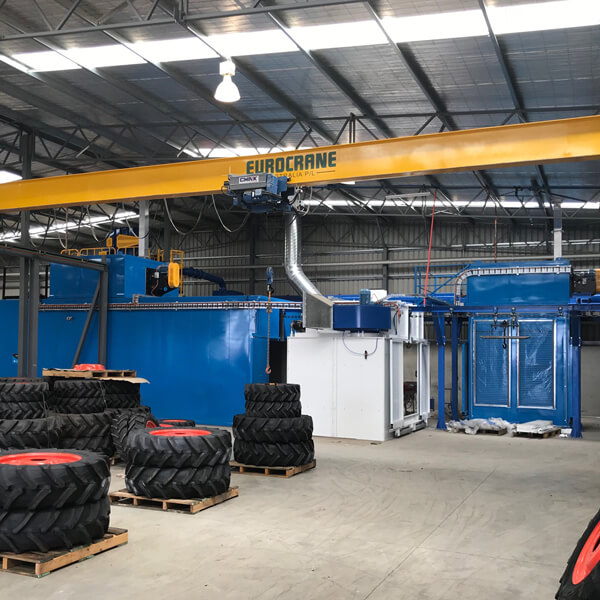 Our customer is a global supplier of tyres and complete wheels for agricultural and forestry machines, fork-lift trucks and other material-handling equipment.
Oliver Technologies was appointed to design and install an automated surface preparation (shot blasting) machine, including both wet (primer) and powder coat (top coat) application facilities. The product is fed through all workstations via an overhead monorail conveyor system.
The initial floor plan was provided by the customer. From there, Oliver Technologies managed the project from the initial design concept through to design acceptance, installation and commissioning of the facility. We now supply preventative maintenance and technical support on an ongoing basis, ensuring high productivity, whilst downtime is kept to a minimum.
The installation was completed on time with the customer assured that the facility meets all required Australian Standards.
Technical Solution
Our solution included supply and installation of:
A 4 wheel automatic shot blasting machine capable of 15 minute cycles

An open faced spray painting booth for application of liquid primer including a drying oven.

An open faced powder coating booth for top coat and curing oven assembly

A monorail conveyor with 3 work hangar rotators provided at the blast machine, prime & top coat booths.